The Christian life is a journey to become more like Jesus in every possible way. Our passion at Valley Christian Church, in Birmingham, Alabama, is to provide a warm, friendly, family atmosphere where you can grow in your spiritual journey at your own pace and follow God as He leads. If you are a spiritual seeker who is just starting to ask questions about God, or if you are a committed Christian looking for a place to connect with others who share your deep faith, we invite you to join us and to experience the freedom to become everything that God wants you to be. Join with us in this exciting journey…
You might try Valley Christian Church off 280 in Birmingham. The wonderful thing about a healthy small church is that they offer the personal touch in an increasingly impersonal world.
At Church recently we celebrated the 65th Anniversary of a couple in our congregation. They had been members here for 40+ years. The church gave them a standing ovation and they were remembered during the Prayer time.
That same Sunday we recognized another member who was celebrating her 93rd Birthday. She has been a member of this church most of her adult life. She also got a standing ovation and special prayers were said.
Soon one of our high schoolers will be graduating? What does Valley do? Something wonderful. The whole church will gather in the fellowship hall right after church and celebrate this special occasion in the life of one young person.
The writer, Frederick Buechner says, "To lend each other a hand when we are falling, perhaps that's the only thing that matters in the end." Valley is trying to reach out to every one who comes through our doors.
---
UNDERSTANDING HOMELESSNESS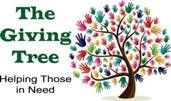 Saturday, September 16th, Valley will continue with our year of "reaching out" to help both men and women in our community in need. We will start at 9:00 a.m. and conclude at 11:30 a.m. Come find out what we as a church can do regarding homelessness.
This is a great time to bring back our giving tree. It will be in the sanctuary August 20th to begin receiving items for the homeless community. There will be a list on the table outside the office.
Please put this date on your calendar. John and Lola have arranged for several knowledgeable speakers.
---
Welcome to The Disciples of Christ Church