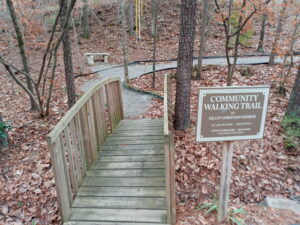 Something the coronavirus pandemic has reinforced to all of us is the value in having outdoor spaces where families can go for moments of fun, exercise, and togetherness. We are very happy to make our outdoor spaces available to you as an outdoor sanctuary for you and your loved ones.
The congregants of Valley Christian Church (Disciples of Christ) warmly invite all families to enjoy our playground and walking trail during daylight hours, seven days a week, 365 days a year. Our playground features several swings (one specifically for toddlers), a slide, and climbing equipment. Our walking trail offers an array of beautiful greenery and a pair of separate benches for prayer and meditation. We are also hard at work expanding these spaces to make them even better for everyone.
This is a ministry we gladly offer to the community, even though, there is no fee to use either the playground or the walking trail, we do accept donations at our church office on weekday mornings.
Use of our playground and walking trail is entirely at your own risk.