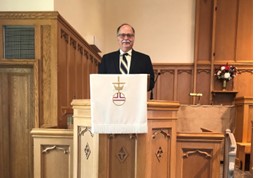 Rev. Edd Spencer – Interim Minister
I was born in Atlanta, Georgia and raised in Birmingham, Alabama.  I attended Auburn University and Lexington Theological Seminary in Lexington, Kentucky.  I met my wife Mary Pat at Seminary.  Together we have served as co-pastors in Mobile, Alabama; Little Rock, Arkansas; Sarasota, Florida and Birmingham, Alabama.  We have two daughters, Holly, who is the Associate Minister at South Elkhorn Christian Church in Lexington, Kentucky and Stacy, who is a pre-school teacher in Birmingham.  We have four wonderful grandchildren.  I have served as Interim Pastor at First Christian Church, Montgomery, Alabama, Union Christian Church in Little Texas, Alabama, Valley Christian Church in Birmingham, Alabama and First Christian Church in Tuscaloosa, Alabama.  I enjoy sharing magic for children at Children's of Alabama Hospital, jogging and backpacking.  In July 2015 I completed the Appalachian Trail of 2,163 miles from Georgia to Maine.
Since we were together about 2 years ago, there is one more item I want to add to this list about my life.  After my ministry with Valley Christian, I accepted the position of Interim Minister at First Christian Church in Tuscaloosa.
The church is located on Bear Bryant Drive.   It is only a few blocks down the road from the football stadium.   Can you believe it? An Auburn graduate serving a church on the campus of the University of Alabama.  It was a very  unique time for me but I loved the church and the people, and serving the Lord is more important than football.
I also love Valley Christian Church and the wonderful people of this congregation.   I am blessed to be with all of you again.  May God guide us as we share the love and grace of God with each other, the community and the world.
God Bless You, Edd